Food...Lovely...
Often simple really is best...
If money was no object I would have come home with so much more from the "Homegrown Food Festival" in Northallerton yesterday but income is limited so even the small amount of treats I came home with had to be chosen carefully.
It all ran like clockwork to be honest...
Caught a bus at around 9.30am
Caught a train around 10.44am
Arriived in Northallerton by 10.55am and I found a reasonably short route to where the festival was being held.
I planned to stay to the end of the event but when you have spent your allotted sum and seen all the stalls on the site, it made sense to take your time and return home unrushed and in plenty of time.
The weather was kinder this year and the rain held off, the sun even shined. I missed the entertainment provided in one way because this year I managed to get into the marquee and watch a cooking demonstration with the popular TV chef in the UK Brian Turner. But I am sure his programmes and books are seen around the world.
So I was on the train home at 2.30pm. I was in Darlington by 2.45pm. I did not fancy the walk from the railway station to the town centre and worked out it would take me longer than waiting twenty minutes for a town bus...
So caught it at 3.09pm
Then boarded a bus for here that was already waiting and I was in my home by 4pm. That gave me three and a half hours rest before going out with my friends for little bit of a social life. I came home with some of the food I took so that will keep me fed for today(ham/cheese rolls)cherry tomatoes. I did not feel tired but obviously was as I was starting to doze off during the final set of the singer in the club and I did fall asleep as soon as I came home and did have a nap waiting to go out for the evening.
Amongst the three meals Brian cooked(all very easy and quick)was a left over chicken meal and he said it is cheaper to buy a full chicken rather than separate pieces of chicken and what he said probably makes sense and is true but when(as I often do)find it on offer or reduced, I can often find buying specific cuts are less expensive.
So what did I buy?
Three loaves of Artisan bread(I really must have a go again at making my own)but again as I have said about the chicken, sometimes I can buy it so cheap and being single I can save time(not baking my own)money not having to use an oven and buy ingredients. Though it is nice to say "I made that" and perhaps make something a bit different.
I purchased a Brie and Cranberry loaf, a Mediterranean one and a kind of Olive Oil based loaf.
I also purchased some locally brewed beer that was in a limited quantity of 250 bottles and produced specially for the day.
It was a look out and a bit of a change for a Sunday. It was a little difficult to get images because the stalls were surrounded by lots of customers(which is good)but I had taken the wrong memory card which was almost full. When I realised how sunny the day turned out I wish that I had remembered to put on some sun lotion.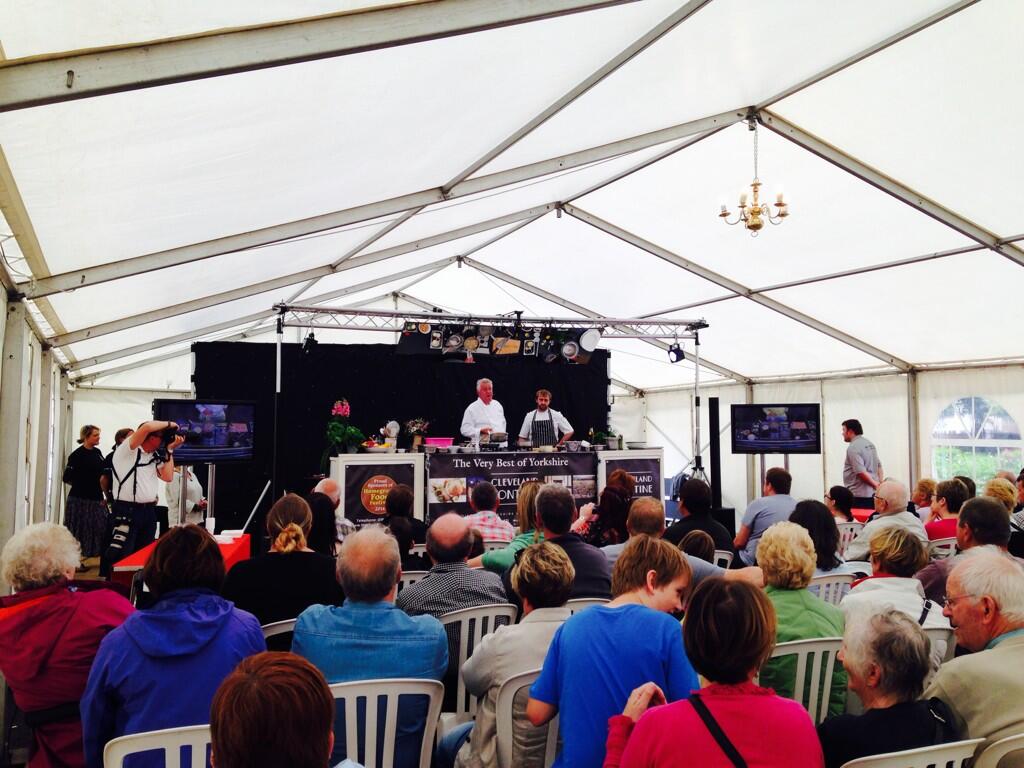 I've added the image above to prove I was there...sadly I am the bald person in the centre of the picture in the dark shirt. Ho Hum...